We are faced with a global food crisis. How do we feed 9 billion people in 2050? How do we overcome one of the biggest challenges facing humanity? And how can we do it in a fair and sustainable way? Simply increasing food production is not the solution.
To get there, we need to transform our food system. One of the most effective ways to achieve this is by changing the way we produce and consume our food. In this blog, we dive into game-changing solutions that can transform our food system. This time we take a look at our own initiative which aims to improve the way extractive and polluting activities, including fisheries and plastics, are governed around the world.
Overexploitation of the world's oceans
The world's oceans are under threat from climate change, pollution, and overharvesting. This poses major risks to biodiversity and our food supply. According to the Food and Agriculture Organization one-third of fish stocks is currently pushed beyond their biological limits. This has direct consequences for the 3 billion people who are dependent on wild-caught and farmed seafood as a primary source of protein.
One of the difficulties in solving these issues lies with the governance of our seas. The world's seas and oceans are a public resource that is nominally owned by everyone, yet not really owned by anyone. This makes governing them complicated. Unlike many commodities, fish and seafood have UN-mandated and agreed codes of conduct for fisheries and aquaculture, including laws of the sea and other international policies. Yet, not all countries have done a good job managing their own seas and engaging in the management of international waters aligning to international policies and standards.
Increased public awareness about unsustainable seafood has sparked various market-based initiatives, such as fishery improvement projects and third-party certification. Nonetheless, these can only achieve so much without closer integration or overlap with government initiatives (read our take on the recently released documentary 'Seaspiracy' and what was missing from it).
Scoring ocean governance systems to drive improvements
Our proposed solution is to create an Ocean Governance Scorecard (OGS) that assesses countries on indicators of good ocean management. Indicators will be drawn from the range of national, international and regional policies and agreements including fishery management, good labour practice, and flag state responsibilities. A credible OGS will allow holding states to account, for example for not adequately managing and monitoring fish stocks in their territorial waters or letting their fishing vessels roam the world's oceans to fish at will. Moreover, the OGS can be leveraged as a one-stop shop to help governments improve their fishery governance systems.
So how does it work? Improvements in the quality of government resources, policy and implementation will lead to a better OGS score, enabling countries to graduate through improvement phases. This allows government, market, and civil society actors to strategize on areas where gradual improvement is needed and how these improvements can tie in with market-based initiatives. In turn, this enables a coherent global sector transformation strategy.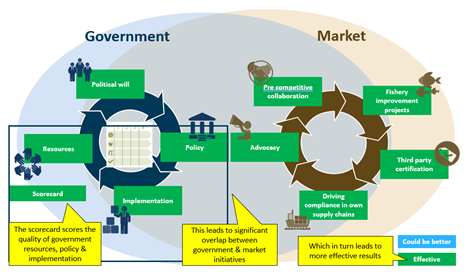 A high scoring system ensures overlap between government and market initiatives
The OGS score will inform seafood buyers and investors, informing their seafood sourcing risk assessments whilst allowing them to be more transparent about the sustainability of their sourcing. This can provide incentives to the market to advocate for better fishery management systems, creating higher demand and potentially higher prices for the source.
Creating an OGS platform can also facilitate access to international funds, which can be used to support capacity building to improve governance scores. This will ensure equal participation of small island and resource-poor states.
The success of an OGS will depend on growing buy-in from the sector stakeholders, building on existing work, flexibility to assess a wide range of fishery governance systems, a credible science-based assessment process, and anchoring in a multi-stakeholder environment.
Join us as an initiator and become part of the core group that will develop the scorecard
At NewForesight, we are dedicated to drive sustainable change. We partner with Huw Thomas of 3 Pillars Seafood on this initiative.
Together we seek game-changing solutions to some of the most critical sustainability challenges of our generation and turn them into market opportunities. We bring the right people together, challenge established thinking and shape coalitions that lead to structural change.
For more information on the Ocean Governance Scorecard go here. If you are interested to get to know more about the initiative or want to join us as an initiator, please contact our Managing Director Laure Heilbron (laure.heilbron@newforesight.com) or our CEO Lucas Simons lucas.simons@newforesight.com