We need to transform our economies and markets into efficient, sustainable, circular, regenerative, inclusive, and fair systems. In the next three decades, we have a crucial task at hand, particularly in sectors that currently cause the most significant adverse impacts: food and agriculture, energy, construction and infrastructure, ICT, logistics and mobility, textiles, manufacturing, and the chemical industry.
To achieve these ambitious goals, we present TransMission – the Mission Driven Transition Approach developed by NewForesight, Nyenrode Business Universiteit, and the Copernicus Institute for Sustainable Development. 
TransMission offers a practical and unambiguous transition management standard that enables us to:
Analyze the dynamics of complex systems
Develop effective strategies for transitioning
Initiate, coordinate, and accelerate these transitions
TransMission: The Mission Driven Transition management standard
The TransMission framework is an integrated, complete, and hands-on transition framework to accelerate mission-driven transitions. It's based on decades of scientific research and real-life practice in multiple global transitions. At the very core, TransMission states that a transition process consists of four important elements (1 – 4), translating to what needs to be done (5), and who has what role to play (6)

Interested to know more about the TransMission Framework?
Download the TransMission e-book to get to know the full framework!
How can the TransMission Institute support you?
At the TransMission Institute, we are dedicated to accelerating Mission Driven Transitions through the deployment of the TransMission framework. What we do:
We train and coach change-makers on the TransMission framework
We assist organizations in building transformational skills and adopting new ways of working
We initiate Mission Tables: bringing together a coalition of the willing and able to develop and execute a shared TransMission strategy to drive sectoral change. 
Furthermore, we collaborate with renowned knowledge institutes like Nyenrode Business University, the Copernicus Institute for Sustainable Development of the University of Utrecht, Tilburg University and Het Groene Brein for continuous research and development, ensuring we stay at the forefront of innovation and knowledge in this field.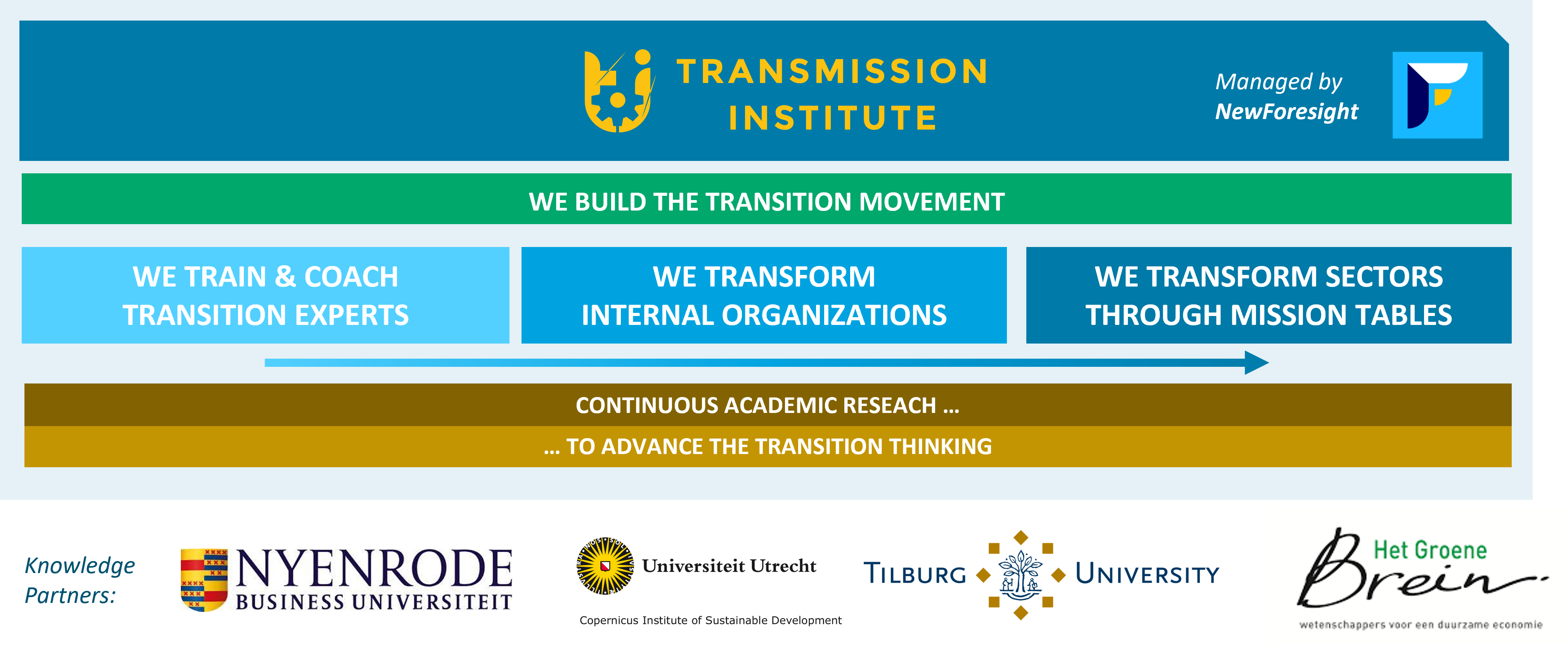 We would be happy to support you on your mission driven transition!

Contact the Leads of TransMission Institute, Lucas Simons and Edgar Schwandt.