NewForesight invited at FMO for keynote talk on using finance for tackling complex sustainability challenges
Finance plays a huge role in the growth and development of smallholder agricultural sectors, and it is estimated that smallholder farmers around the globe represent a demand of $450 billion in agricultural finance. Regrettably, only a small fraction of around $10 billion of this demand is currently satisfied. This represents both a tremendous challenge to the development and professionalization of these farmers, as well as an opportunity for structural and positive change—if we are able to successfully unlock supply of and access to this remaining $440 billion.
A keynote talk on leveraging finance in agriculture
Therefore, we were thrilled to be invited by the Netherlands Enterprise Agency (RVO) to address a group of agricultural professionals from Colombia, Iran, Saudi Arabia, India, Nigeria, South Africa, Vietnam and Kazakhstan to give a keynote talk on how finance can play a part in addressing the challenges that come with tackling complex sustainability challenges in agriculture. Hosted by the FMO, Netherlands Development Finance Company, the talk given by Hilde van Duijn (Senior Consultant) and Niko Wojtynia (Analyst) sparked a lively discussion between the foreign visitors, FMO staff, representatives of the Dutch government as well as organizations like IDH (the Sustainable Trade Initiative), and the presenters.
Factoring finance & Service Delivery Models
The presentation focused on the global challenges of agriculture and the importance of farmer organizations and cooperatives when working with smallholder farmers who are not conventionally considered 'bankable'. Hilde incorporated examples of her experience in organic cotton, where payment of price differentials (or 'premiums') often do not reach the farmer, and showed how 'factoring finance' can offer an inclusive solution throughout the supply chain and at farm level. Niko demonstrated how securing access to finance has been found to be a key driver of successful Service Delivery Models (supply chain structures that provide services to farmers to increase their performance and profitability, see the image below); the result of 30 real-world case studies performed by NewForesight for partner IDH, comparing such services across the globe.
Continuing the conversation
Hilde and Niko left the meeting both inspired and humbled: inspired by the visitors' enthusiasm to drive change in their respective sectors, and humbled by their direct experience with many of the issues broached in the talk. We look forward to continuing this conversation with all frontrunner organizations that see the opportunities for positive impact contained in tacking this challenge.
Image: The FMO building (by FMO)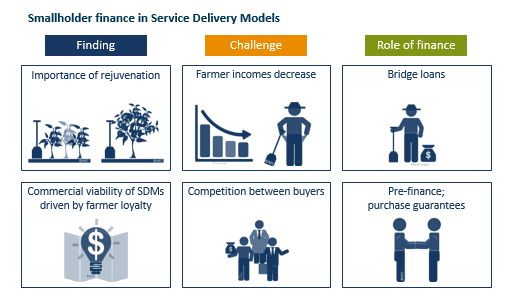 Image: Finance within Service Delivery Models (from FMO presentation)